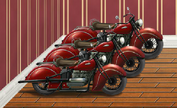 These serial numbers check out. This motorcycle was owned by Steve McQueen. You should be able to get $100,000 for it.
-Expert
Fact 1: The Indian Motorcycle Manufacturing Company built motorcycles in Springfield, Massachusetts from 1901 to 1953.
Fact 2: After Indian's bankruptcy in 1953, the brand name was sold to various manufacturers with little success. Polaris Industries is the most recent holder of the Indian trademark.
Fact 3: George E. Hendee created his first motorized bicycle, the American Indian, in 1897. After several race wins and building demand, Indians hit the market in 1902.
Fact 4: Terrence Stephen McQueen, born in 1930, became an icon of the counterculture of the 1960s and defined the image of auto- and motorcycle racing for much of the 20th century.
Fact 5:
Ad blocker interference detected!
Wikia is a free-to-use site that makes money from advertising. We have a modified experience for viewers using ad blockers

Wikia is not accessible if you've made further modifications. Remove the custom ad blocker rule(s) and the page will load as expected.